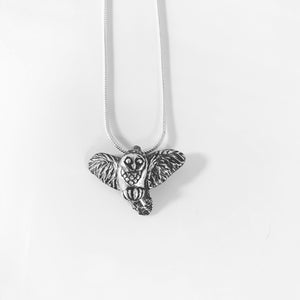 Rain Kazymerchyk Art in Metal
Night Flyer
Regular price
$72.00
$0.00
Many years ago, when I lived in Florida, I volunteered at the LaGuardar Wildlife Rehab Centre. I was privileged to work with many birds of prey including several species of owls. This little owl is my tribute to those beautiful creatures.
As a personal symbol, the owl reminds us to be strong when navigating difficulties or darkness in our life.
As a creature of the night, the Owl is often regarded as a gatekeeper to other realms, particularly for the souls of the dead. In some stories, owls accompany a soul, so it doesn't get lost on its journey. A beautiful symbol to remember a passed loved one.
This Sterling silver owl pendant can be purchase alone or on an adjustable length (16, 18, 20 inch) chain.
A donation will be made to the Ottawa Valley Wild Bird Centre from the proceeds of each sale.
Please check out their website at https://www.wildbirdcarecentre.org to learn about the wonderful work they do helping wild birds in this area
---
More from this collection